Taste of the Orient
Over the course of history the fauna of the UK has been supplemented by various 'alien' species. Some such as Red-legged Partridge and Little Owl have arrived through introductions. Other species, particularly waterfowl, have resulted through escapes from captive collections and have subsequently established feral populations. A particularly colourful addition to the waterfowl species found in the UK is the Mandarin Duck that originates from eastern Asia and in China is known as the Yuan-yang. They make a wonderful photographic subject due to their colour plumage.
There is currently a UK population estimated to be around 7000 pairs of this tree cavity nesting duck. The area around my home supports a small population that regularly breed on a local lake surrounded by woodland. I decided to make an early morning visit on a short pre-work session. The light was a bit limited but their colours tend to shine even more vividly under overcast skies.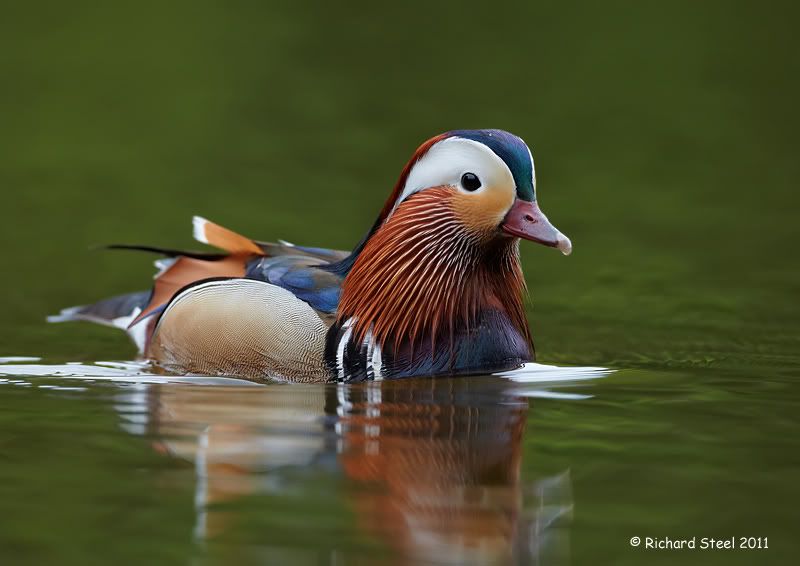 The site is regularly visited by bread wielding families that feed the ducks and geese and as a result the birds are accustomed to people and relatively easily approached. The perfect subject for when your time is limited.
I had two drakes in front of me but unfortunately no females, which although less colourful, are still a very attractive looking bird.
As with all wildlife photography a more intimate image is created by positioning yourself at the level of the animal or bird. For waterfowl the closer to the water level the better. Fortunately lying on a small concrete ledge allowed me to get the required angle.
The birds did not really show much activity beyond gently swimming around amongst the mallard and so I settled for some portraits on the green algae rich waters of the calm lake.
All to soon it was time to leave and continue my commute to the office. These colourful oriental invaders certainly brightened the mood for the long day ahead of report writing.