Sea Swallows
Much as I love photographing seagulls, if a gull and tern were passing then the camera would always be turned to the tern. Tern photography is always very satisfying as they are such
elegant
birds and always form some interesting poses and provide plenty of action. I am fortunate to have a good Common Tern colony locally and always try and make at least one trip there in the summer. A tern colony is a
noisy
place and if I close my eyes it is quite easy to conjure up their penetrating cries.
I arrived at first light and could see and hear the birds before I had got anywhere near the hide, a promising sign. Numbers of birds were bringing in
sandeels
and small sprats for their waiting young.
Fortunately the hide has a number of posts and rocks in the water at close range which allows some great opportunity for portraits and the birds were beautifully lit in the early sun.
As usual they formed some interesting poses in response to other birds passing close by.
The first rule of being at a tern colony is never look up, unless you want an
eyeful
, so you would have thought this bird would have known better.
When hit from above there is not much a bird can do but preen and shake itself down.
By now some of you may have noticed that a large proportion of the birds are ringed. The site has been subject to a long-term ringing and monitoring study. I must admit I am not a big fan of photographing ringed birds but if the data helps conserve the species in the long run then its all for the good.
I will finish off the Common Terns with a couple of flight photos. A problem with photographing terns is they have a very large wing span relative to their size, and so when at close range you inevitably end up with a fine collection of partial images where a wing tip or tail is out of frame. Coming in to land.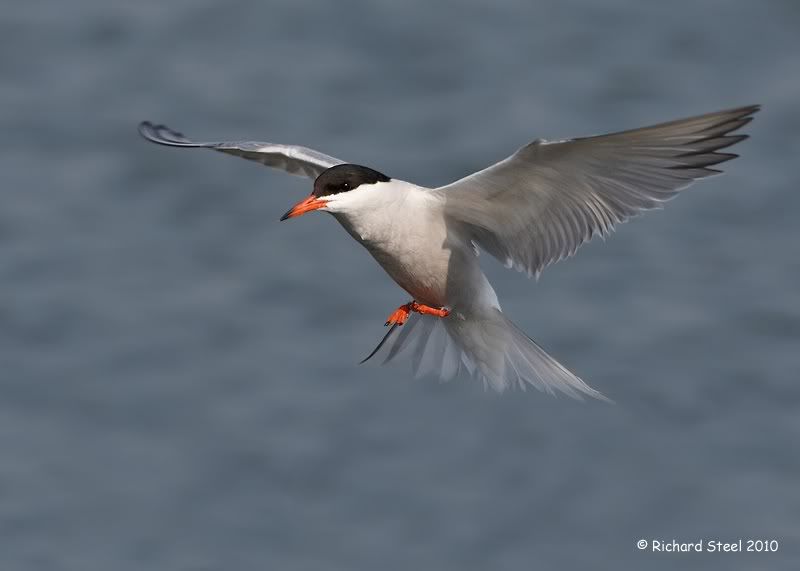 While I was sitting there I suddenly noticed an unusual tern land in front of me. It took a few moments for the grey matter to register what I was looking at, which turned out to be the scarce and sadly rapidly decline Roseate Tern. Typically the sun disappeared behind a solitary cloud during its brief visit. A great way to finish my morning session in the presence of these wonderful birds.