Spring is in the Hare
Firstly apologies for the delay in blog update but I'm sure there is some force of nature that as you get older the hours in the day get shorter. Certainly the years pass more quickly and I cannot believe that we are already heading rapidly towards the end of March and the first of the migrant birds are appearing on our shores
For many people the hare is the symbol of Spring, as they chase and battle their way across the first shoots of a farmer's new crop. Personally I like to photograph them throughout the year and particularly in the long lazy days of late summer when they seem so much more relaxed. My sessions with the hares this year have all been brief sessions before or after work now that the day length has increased sufficiently. However, strangely this year despite getting quite a few photographs of these enigmatic animals I have yet to actually had the sun shine on one. A good indication of the low light conditions is reflected by the dilated pupil of this head portrait. (sometimes a 500mm lens is just too long!)
The weather has been slightly odd with there always being cloud in the early morning before the skies then clear and the hares disappear.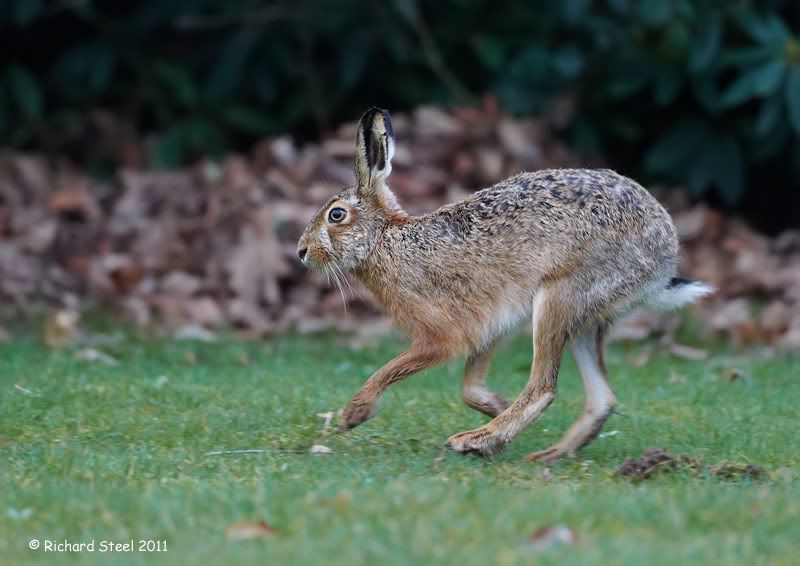 The lack of light has been of no benefit for trying to capture action photos but has created some good even lighting for portraits.
It is always good to get some eye contact in an image and to fall under a prolonged direct gaze of a hare is a magical shared moment.
Why did the soggy hare cross the road? Well probably because a female had previously and an enticing scent trail was being followed.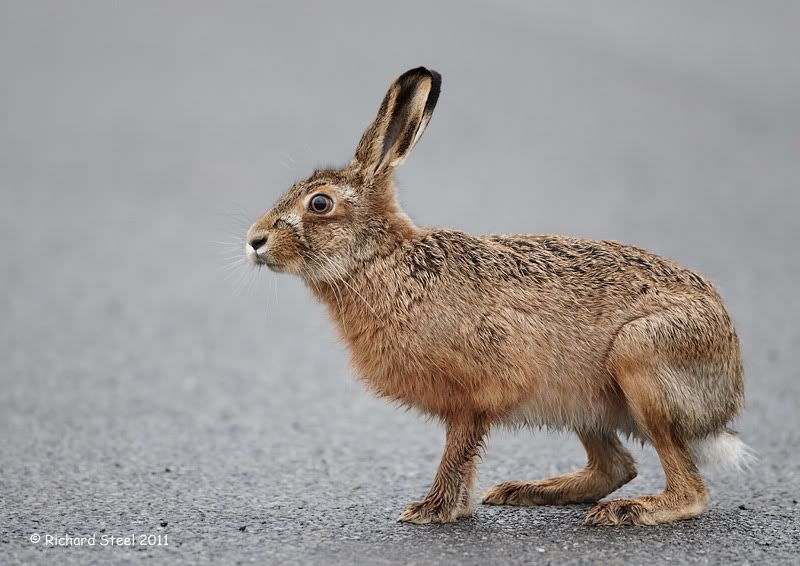 After all that chasing around there is a need to lie quietly to
recuperate
amongst the fresh lush new growth of spring....
....or to undertake a spot of early morning grazing to build the energy levels back up for the next mad dash.
I have literally hundreds of hare images in my library and I am occasionally asked why I continue to photograph them. Well there is no answer I can put in to words as to the reason but anyone who had a prolonged encounter a close range will understand.