Inside the Circle Day 1 - A Slow Start
As some of you will know last week I was away on holiday up in the
Arctic
Circle on a photography trip. The next few posts will be dedicated to that trip as I intended to give a day by day account of this Arctic adventure in the bird wonderland under the midnight sun.
My journey started smoothly with a trip to Manchester airport and a hassle free passage through to the
departure
lounge despite carrying some significantly overweight hand luggage holding the camera equipment. My mobile then bleeped with a text message from
Finnair
announcing
that the first plane of the journey to Helsinki would be delayed by two hours. It took a couple of minutes to realise the ramifications of the short message which meant an almost certain missed connecting internal flight to
Ivalo
and a need to contact both car hire and the
accommodation
for the first night to make some rearrangements.
The late arrival in Helsinki meant missing the connecting internal flight by 30 minutes and a forced stay in an airport hotel until the next available plane the following morning. After checking in, a quick walk around to stretch the economy class legs revealed some F
ieldfare
at the back of the hotel. What caused me to go and collected the camera was the presence of a number of recently fledged birds, which is a sight that cannot be seen in the UK as they are winter visitors. This was not how I had planned to take my first photographs in Finland but it would be a good warm exercise.
The adult birds stayed in the trees above keeping a watchful eye over their new brood.
Down below most of the fledglings were hopping around on the ground except the
youngest
looking nird that was perched on a low branch.
The young birds were unconcerned by the presence of the camera and a few photographs were taken over the following hour.
Resting in the shade of a tree.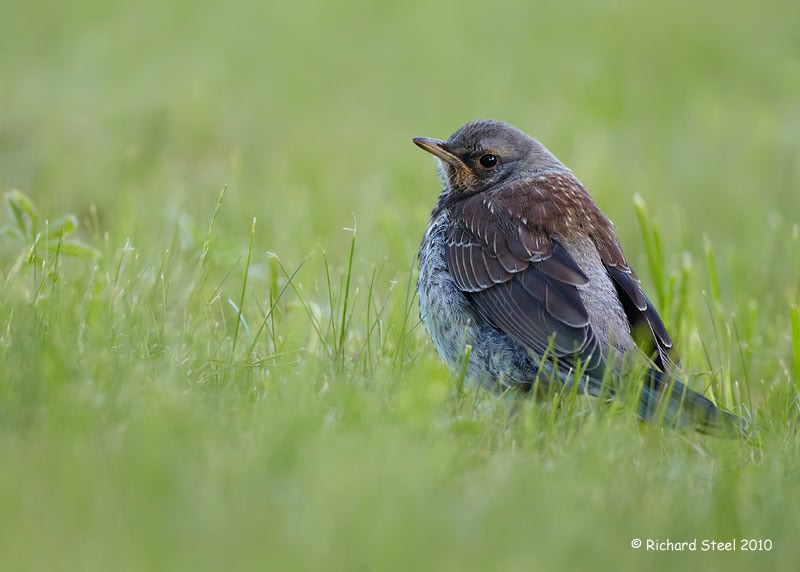 <'div>
Checking out the work of the local lumberjack
and generally appearing to enjoy soaking up the rays of some late evening sun.
The next post will see me continue my journey northwards and up into the Arctic Circle and finally put some new species in front of the lens.